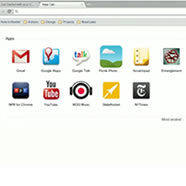 Google is definitely making a great job.
The Chromebook is a big step for making the cloud become mainstream (well, not "the" cloud, but Google services: calendar, gmail, docs, youtube….)
Users do not have to worry about anything else, except for some little privacy issues that may concern us all.
If we put together android + google tv + above all, the good taste in UI designing and the responsiveness of all the Google apps and services… it looks like they have an interesting future ahead.  Time will say…